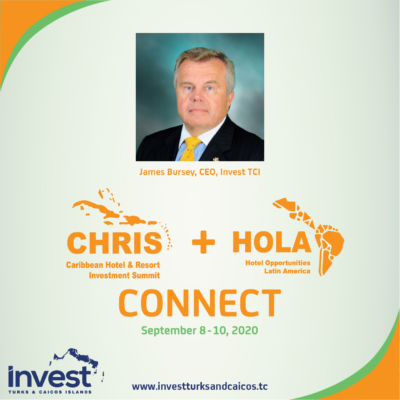 Providenciales, Turks and Caicos Islands, September 1, 2020 – Invest Turks and Caicos Agency (Invest TCI) is pleased to announce the Agency's participation in the Caribbean Hotel & Resort Investment Summit (CHRIS) and Hotel Opportunities Latin America (HOLA) Connect scheduled for September 8th -10th, 2020.
Traditionally an onsite event taking place in Miami, FL, the organizers, Northstar Travel Group and The BHN Group has decided to unify this year's CHRIS and HOLA events into one online conference called CHRIS+HOLA Connect. The change reflects the ongoing uncertainty surrounding COVID-19 and associated CDC guidelines, social distancing measures, and travel restrictions.
A most noteworthy hotel investment conference, the three-day virtual event will include five plenary sessions, eight Caribbean-specific breakout sessions, eight Latin America-specific breakout sessions, and multiple networking opportunities. The event's content will continue to be geared toward hotel owners/investors, developers, brands, and lenders.
Invest TCI, as a platinum sponsor, will host a session highlighting "Investment Opportunities in the Turks and Caicos" the presentation will be made by Invest TCI's Chief Executive Officer, James Bursey on September 8th, 2020 at 3pm.  Madam Premier, The Honourable Sharlene Cartwright-Robinson, will also participate in a Heads of Government panel discussion on Thursday, September 10, 2020 at 1 pm. The session will focus on an engaging, thought-provoking discussion about the current state of travel and tourism throughout the region.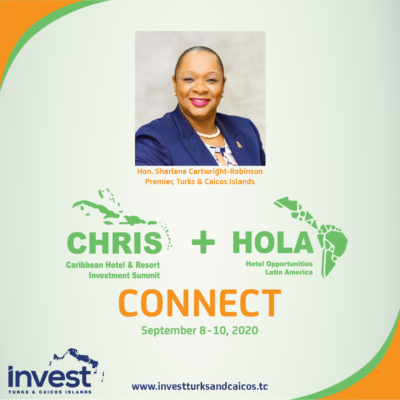 As the Agency's fifth year participating in the event, Vice President of Marketing and Promotion, Trina Adams-Smith stated, "Invest TCI continue to offer its support to this conference. The Agency has built lasting relationships and has generated numerous leads. While we cannot network and interact in person this year, we are grateful for the advancement in technology, which allows us to connect virtually and achieve our goals of promoting the Turks and Caicos as a prime investment destination.
Invest TCI encourages persons interested in registering for the conference to do so at https://www.burba.com/CHRIS no later than September 4.
For updates on CHRIS and other Invest TCI events, visit our website at www.investturksandcaicos.tc or our social media pages at @investtci.