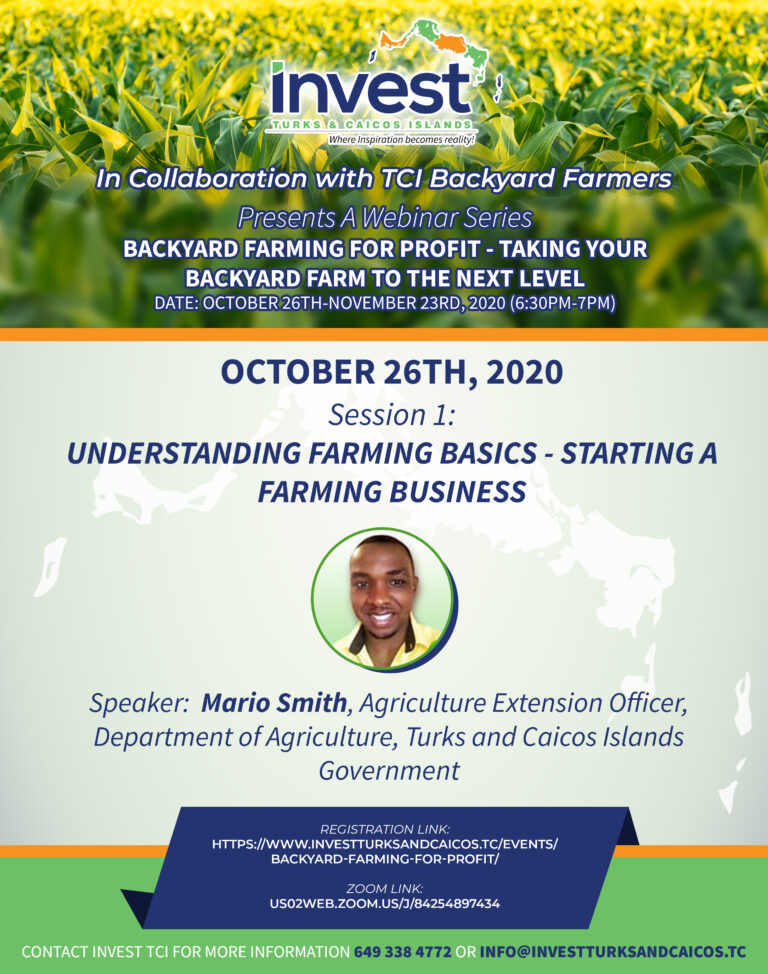 PROVIDENCIALES, TCI – October 22nd, 2020 – Invest Turks and Caicos Agency (Invest TCI), in collaboration with TCI Backyard Farmers Facebook Group are proud to announce its partnership to deliver a webinar series, "Backyard farming for profit – Taking your backyard farm to the next level."
The TCI Backyard Farmers Facebook Group was created in April 2020 and is a community of people turning parts of their property into mini and micro-farms. The Group has become a movement of persons working together, supporting each other, sharing information and tips for growing their food.
Since its creation, TCI Backyard Farmers Group is now 1600 members strong, and these individuals have demonstrated an enthusiasm for farming, growing a wide range, and abundance of produce.
Invest Turks TCI has partnered with the administrators of TCI Back Yard Farmers Facebook Group to host a series of webinars that aim to stimulate and encourage entrepreneurship among persons interested in taking their hobbies to the next level and starting a profitable farming business.
The free webinar series will take place from October 26th – November 23rd at 6:30-7 pm with one session per week and will engage speakers who are experts in their fields. The topic ranges from Understanding Farming Basics – Starting a farming business, creating partnerships for supplies, ideas for turning your backyard farming into a profitable business, and Government assistance through Invest TCI's MSME programme.
Commenting on the Webinar, Senior Vice President – Investor Services, Angela Musgrove stated: "Invest TCI is delighted to partner with the TCI Backyard Farmers Group to deliver this webinar series. We hope that the information shared during this webinar will plant a seed and get people thinking about how their backyard farming hobby can become a profitable business. We also hope that persons will take advantage of assistance available to them through Invest TCI's MSME programme. We are aware that there are many opportunities to create linkages to support our domestic market as well as our tourism industry; we hope that this is the start of advancing ourselves to capitalize on the opportunities that exist.
Anya Pratt, administrator of TCI Backyard Farmers Group, stated: "The partnership with Invest TCI enables our group of farmers to develop a new level of thinking and turn their backyard gardening and farming hobbies into a possible business. Our hope is that persons will take their passion for farming and venture into this opportunity.
For more information or to register for this webinar, visit www.investturksandcaicos.tc or follow us on Instagram & Facebook at @investtci or visit TCI Backyard Farmers Facebook page for updates.
About Invest Turks and Caicos
Invest Turks and Caicos is the Islands' Investment Promotion Agency, responsible for enhancing the economy through the attraction, growth and retention of overseas investment; and supporting the growth of local businesses.
We provide a free and confidential service to overseas businesses looking to expand and will work with a company project team throughout the investment process, providing advice and support. This can include:
Information on the local business climate;
facilitating contact with relevant Government Departments throughout the investment process;
advice on Government incentives and concessions to investors;
introductions to local service providers/suppliers;
advice on work permits and permanent residency procedures;
ongoing support following set up.

We also work actively to support the growth of local businesses, including the management and delivery of the Micro Small and Medium Enterprise programme which provides concessions and reliefs to locally owned businesses.