PROVIDENCIALES, Turks and Caicos – September 8, 2020 – Flow and Invest Turks and Caicos Agency (Invest TCI) are proud to announce its partnership to deliver a National Youth Day Virtual Experience, "Igniting Your Entrepreneurial Talents," taking place on September 25th, 2020 at 10 am via Zoom.
"Igniting Your Entrepreneurial Talents" is a half-day webinar geared towards young people ages 18-35 and aims to educate creatives and future entrepreneurs to seek their entrepreneurial paths and develop entrepreneurial attitudes, behaviors, and skills.
Flow TCI Country Manager, Joanne Missick stated: "I believe it is imperative that we encourage a spirit of entrepreneurialism in our youth and that we optimize the creative and innovative capacity of the generation we are living in. This event is designed to give attendees the tools to help actualize your dream and make your mark in the world."
Commenting on the webinar, Chief Executive Officer of Invest TCI, James Bursey stated: "We are delighted to partner with FLOW on this initiative. Our goal is to educate aspiring entrepreneurs by providing basic knowledge and guidance they need to kickstart their business. We also seek to inform persons as to how Invest TCI's MSME programme can help them get started."
Registration for this event is free to all, and participants can expect to hear from dynamic speakers and learn how to kickstart their dreams of owning a business.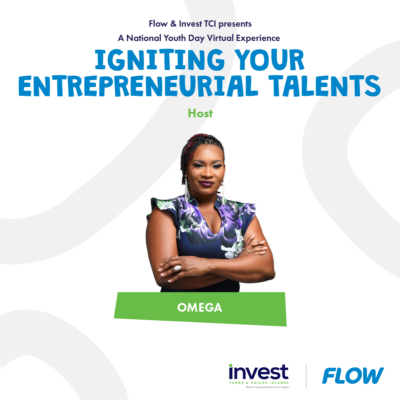 Session 1: Basic Tools to Build Your Dream – 5 Habits that Will Kickstart your Dream
Speaker: Walter Gardiner, Senior Broker, Director & Luxury Real Estate Specialist, Regency-Christie's International Real Estate
Session 2: Scale or Fail – Growing your Side Hustle into Your Dream Business
Speaker: Wellington Williams, Owner, The Wellington Collection
Session 3: Business Finance 101 – Financial Literacy – The Basics & Best Practices
Speaker: Drexwell Seymour (MBA, CPA), Managing Partner, HLB TCI
Session 4: Partnership and Business – For Better or Worse?
Speakers: Jermaine & Aisha LaPorte, Owners, Long Bay Express
Session 5: Creating a Lucrative Personal Brand – 10 Golden Rules of Personal Branding (What does this mean for your business?)
Speaker: Melanie Smith, Founder & CEO, Turks and Caicos Recruitment Group
Session 6: Getting Started – How Invest TCI can Help
Speaker: Sheryl McLaughlin, Investment Services Executive, Invest TCI
For more information or to register for this webinar, visit www.discoverflow.co or follow us on Instagram & Facebook at @flowtci or @investtci for more updates.
END
Flow Media Contact:
Darron Hilaire Jr
Marketing Communications Executive
Tel: 649-231-6275
Invest TCI Media Contact:
Trina Adams-Smith
VP – Marketing and Promotion, Invest Turks and Caicos
Tel: 649-338-4783
Notes to editors
About C&W Communications
C&W, part of the Liberty Latin America group of companies, is a full-service communications and entertainment provider and delivers market-leading video, broadband, telephony and mobile services to consumers in more than 20 markets. Through its business division, C&W provides data center hosting, domestic and international managed network services, and customized IT service solutions, utilizing cloud technology to serve business and government customers. C&W also operates a state-of-the-art submarine fiber network – the most extensive in the region.
About Invest Turks and Caicos
Invest Turks and Caicos is the Islands' Investment Promotion Agency, responsible for enhancing the economy through the attraction, growth and retention of overseas investment; and supporting the growth of local businesses.